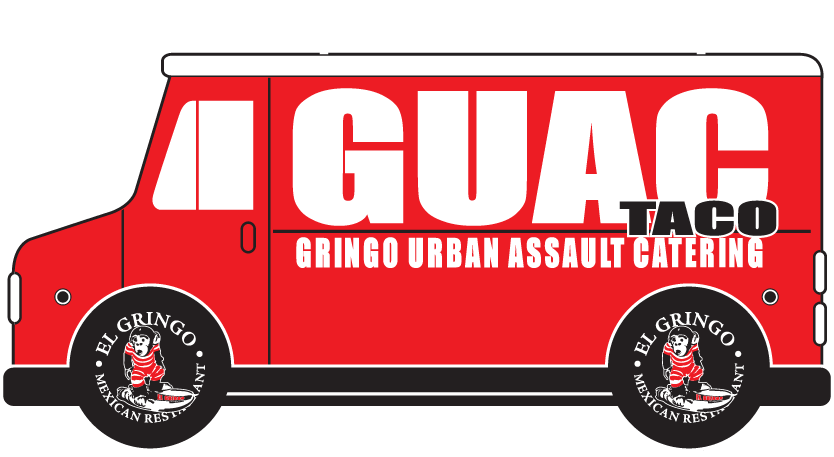 I just wanted to send a quick email to thank you for helping to make my husband's 35th birthday celebration so special.  The GUAC truck was an absolute hit!  Everyone raved about the food and it was so great that we could spend time with our guests without worrying about set-up or food prep.  Please convey our sincere thanks to Ashton.  We was absolutely  fantastic!  He took care of everything – making sure that all of our  guests were well fed and accommodated special requests.  We look forward to working with you again.  Many thanks
Mitsue –  Palos Verdes
Wow! What a great way to throw a party! I definitely will use your great service again! Joe and Ken were so charming, professional and helpful. My guests were impressed with the attractive set-up and raved about the delish feast. Thank you again!
Judith J. – Torrance 
Hello Bill,  I wanted to thank you for everything at our picnic.  It went so well.  Everyone loved it.  Ron was Wonderful.  He has a wonderful personality and is a great representative of your company.  .  Everyone felt as if they had known him forever.  Thanks again for a wonderful evening.
Mignon.  -Hermosa Beach
Billy, thank you sooo much for an amazing job!  We got so many compliments about how delicious the food was and how it was so beautifully displayed and organized and of course the service!  You guys did a great job and my mom is THRILLED!  We were able to focus on our guests and enjoy the celebration!  That is soooo hard to achieve with most caterers!  Everyone was just so wonderful and more importantly HELPFUL!! Thank you again for being a part of our celebration and making it a HUGE success!
The O. Family.  Manhattan Beach
Thank you for the excellent service provided this Saturday for my event.  I was more than satisfied with the professionalism, food, service and overall attention to detail.  Our cook was amazing and everyone loved him.  I have recommended you and your staff to all of my friends and will be using you for upcoming events for my staff at work.  Thank you thank you for making my husbands and moms birthday dinner an unforgettable one!
Marty M. – Woodland Hills
Hey Bill, I just wanted to follow up and say THANK YOU again for the great taco party.  The food was delicious (as always), Bill our cook did an outstanding job and everyone had a great time. So many of our friends commented on how great of an idea this was.  We will definitely keep you in mind when anyone asks us about catering ideas.  You have such a great thing going here!
Nicole S. – Hermosa Beach
Bill, thank you for making our Employee Holiday party a success.  Your operation made us feel like we were all on vacation in Mexico.  It was all smiles on Friday!  On behalf of our crew of over 300 hundred, thank you.  Tell your entire staff-Happy Holidays!  See you next year.
Gary S.  -Gardena
Thank you, we were really happy with the way things went on Saturday night. You really made it easy on me to throw a party that I could actually enjoy.  GUAC is a class act!  Keep it up, I will be calling again.
Bob T.  Newport Beach
GUAC!  Thank you so much for the great job you did at my Fathers 70th Birthday party.  Your food is so delicious.  I just loved your Table Clothed buffet, with battery operated lights no less!  You have taken the Taco Cart party to a higher level.  I wouldn't want to be your competitor.  Thanks again!
Jenny B. – Beverly Hills
Just wanted to write you a quick note and let you know how thrilled we were with the GUAC Taco Truck party last night!  Ken and Ronnie were fabulous and I would have to tell you that you must of received about 15-20 more jobs from our party last night.  So many of our friends are saying that they are using GUAC for their next event!  A lot of business cards taken!  The food was fabulous — we are going to make this an annual event, so put us down for next year!
Robyn S.  –Manhattan Beach
The GUAC Taco Cart Party on Saturday night at my daughter's birthday party was a big hit! The kids loved it.  I loved the fact that I didn't have to do anything!
Staci C. – Rolling Hills
Bill — The G.U.A.C. was AWESOME last night! You guys were such a huge hit at our party. Delicious tacos, great service. We all also loved Aaron our cook, he was so nice and personable.  Really made the event. Will tell everyone that you guys rock!   Cheers, and thanks again.
Molly H. – Santa Monica
Thank you so much for providing such wonderful food.  Everyone just raved about it.  It was so good that the honoree, John didn't get to eat.  He was so busy talking to everyone he didn't get a chance to get in line.  So, we stopped by your restaurant El Gringo on Saturday so he could get his fill of your tacos.
Maria C.  – San Pedro
Party went great. Guests loved the food and the cook.  He made everyone feel comfortable and did a great job.
Kevin J.  – Long Beach
I'm finally getting around to my follow ups after our party.  My husband had a great time and was completely surprised! EVERYONE LOVED THE FOOD! Seriously!!! Nick (cook) did a great job and handled everything perfectly!  Thanks again for everything…you helped make a momentous day something to remember!!!
Amy J.  – Redondo Beach
I just wanted to say thank you for everything. The food was absolutely delicious and everyone loved it…especially the Mahi Mahi.  I can't stop thinking about those Tacos!
Erin W.  – Los Angeles
Hi Bill!  I wanted to tell you how great your food and service was last night…it was a perfect 1st birthday for my daughter  Ken was such a good sport with all the kids.  Thank you again – we'll definitely be using GUAC Taco and El Gringo again – the whole thing was a huge hit!!
Kristina C.  Palos Verdes Estates
Hey Bill, last night was a HUGE hit thanks to your taco cart and the wonderful Ken & Ashley!  Everyone raved about the food. They said hands down the best taco cart they've ever eaten off of.  Thanks so much for all your help. The whole deal from start to finish was a pleasure. Cheers!
Becky B.  – Marina del Rey
Thank you very much for your services. We had a great time and your food was delicious. Ken was very personable and a total pleasure to have at our party. We will definitely use you again and recommend El Gringo for catering needs.  Thank you very much.
Jeannine B.  – Redondo Beach
Billy, Thanks again so much for the great job your team did for our Graduation Party. Everybody had a great time, and our guests raved about the G.U.A.C. cart. Economical and a big hit, my kinda party situation!  Also, your guys Ken and Bill were smooth and timely. Bill Johnston was loved by all in his lifeguard hat. What a gentleman.  Thanks again!
Karin M. – Manhattan Beach
Bill, I just wanted to let you know what a great job Ken did at our party on Saturday.  He was friendly, professional, and everyone loved the food!  El Gringo has been a family favorite, and we're glad we chose your GUAC Taco Cart company to cater this year's Football banquet!
Nancy C.  – Torrance
Hi Bill -

Just wanted to drop a quick e-mail to thank you for the wonderful service and food from this past Saturday! Our guests had a blast and loved the Carnitas. Ken was a wonderful part of the experience as well. Everyone really enjoyed his company and we all wanted to send our "Thanks" to him. Hopefully our guests will look to call GUAC and El Gringo for their upcoming events as well. Thanks again!
Getchel M.  – Hollywood
Hi Bill! I can't thank you enough for your catering service, it was really great & everyone enjoyed it immensely. You have a lot of "word of mouth" advertising coming your way. You made everything so easy, and that it much appreciated as well. Bill the cook was great; we all had a great time chatting with him. Again, thank you.
Karen K.  – Playa del R