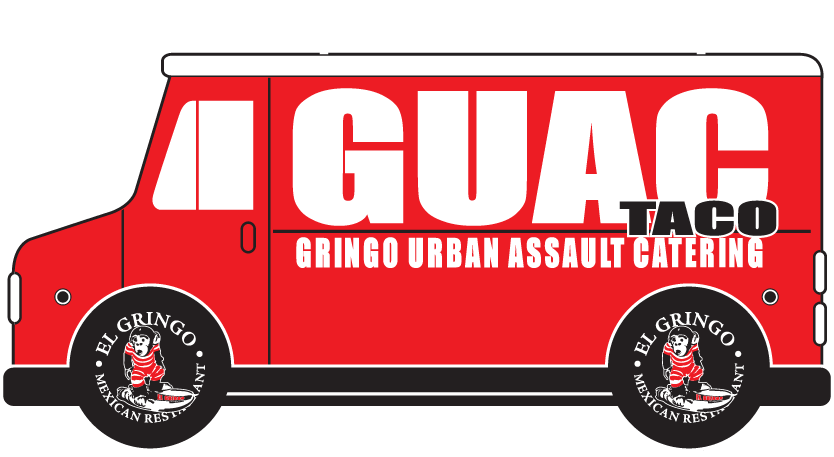 With so many Taco Caterers to choose from, why choose G.U.A.C.?
G.U.A.C. Taco Cart Catering Company is not the "Taco Man", it is a Professional Catering Service based out of El Gringo Mexican Restaurants performing a Taco Cart service. We have high quality – Award Winning food, we are 100% reliable and we are completelylicensed, insured and health department certified. You will have "Peace of Mind" from the beginning to the end with G.U.A.C Taco.
What is included in your service?
G.U.A.C. Taco Cart Catering is a full service catering company that includes delivery, set up, on site grilling, buffet with quality and professional service.  We will bring all of the equipment needed to serve a party complete with cooking equipment, buffet and serving supplies (plates, forks, napkins).
How do I reserve a Taco Cart?
REQUEST A FREE QUOTE .  We will let you know if the date of your event is available. A Contract will be needed to be completed to "save the date"
Do I have enough space?  How big is your equipment?
There are two main pieces of equipment; the GRILL (72″ x 36″) and BUFFET (72″  x 36″). They can be side-by-side, or apart.  If you are concerned about space – call 877-EL-GRINGO.
I do not know how many guests will be coming, how should I handle this?
Our reservations fill up fast. Don't miss out worrying about the head count. We require a 72 hour deadline for determining your final head count.  We suggest you reserve a Taco Cart by requesting a quote and return a completed Contract. You can figure out the final head count later.
If I order a Taco Cart, How many Tacos does each person get?
G.U.A.C provides a minimum of two hours of grilling per party.  Most of the time, all of your guests will be able to return to the Grill again and again.  The average Taco-per-person ratio is 4.  Some of your guests may only want one -others may enjoy up to 5 to 6 or even 8.  If your head count is correct, everyone will eat tacos.
What about Kids?  Do they get a discount?
Our service provides food for the head count that you determine.  If you believe that the kids are so young that they will not be eating-do not count them in your head count.  Further, if you have children that will eat half as much as an adult-count them as a half person (20 kids=Headcount of 10).
What happens if it Rains?
We have many options; including Pop Up Canopies (we supply) to indoor-electric griddles to bring the entire party indoors. Keep your eye on the weather report, it is important to have a back up plan.
Do you Cook out of your Taco Trucks?
No, we bring the party to you! The G.U.A.C. Truck will show up at your event. However, we are a full service catering company. We take pride in Grilling Tacos in an intimate setting (at 'eye level')'.  Your guests will be able to interact with our cooks and become a fun part of your event.
What happens if there are leftovers?
We provide To Go containers and will package and present the host with any leftovers- enjoy!
Does G.U.A.C Cater only to private parties or do you do larger events?
We cater to many types of events in the Southern California area -7 Days a week at all hours. Including but not limited to Corporate events, Craft Service (specializing in 2nd meal) and local youth sporting events and fundraisers. We have catered events ranging from 35 to 1000 guests.  No party is too big!
Can I have a Taco Cart in a public park or on the Beach?
Yes, there are many cities that allow Taco Carts in public areas.  Request a quote today, then immediately contact your city directly to inquire about necessary permits and or reservations.
Are you Insured?
Yes, G.U.A.C. is fully insured and can provide a Certificate of Insurance if required for your event.
Do you have a Minimum Headcount?
Technically…Yes. 35 Guests is our Minimum count for our service. However, we will perform any party.  If you request a quote for under 35 guests, you may be required to pay more 'per guest' but there is no party too small.